Region: Hong Kong, HKSAR Product: VECON-CON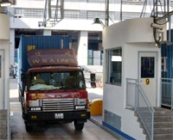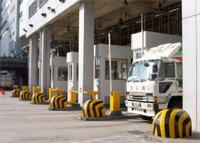 At any container port or terminal, the number of lorries and containers entering and leaving is phenomenal during peak hours. Containers are loaded on to lorries and manually checked and verified to confirm that the correct container is loaded onto the correct lorry. Although every detail is carefully checked before the lorry leaves the terminal, it is not always possible to ensure that the containers have left on the assigned lorries.
In order to better control and improve efficiency, various ports and custom borders deployed VECON-CON to ensure that highly accurate records are made of the pairs of containers and lorries that entered the terminal together. The system is also used to verify that the correct pairs of containers and lorries leave the terminal together.
At CSX World Terminals in Hong Kong, and at another terminal in China, VECON-CON is used in many applications from providing real-time global tracking and tracing of containers to automating terminal operations, to monitoring the loading and unloading operations at the berths.
The terminals gained many advantages and enhancements as a result of their use of VECON-CON including:
Enhanced terminal entrance/exit security.
Increased efficiency and TEU throughput.
Cost saving on human resources required for repetitive tasks.
Easy integration with existing infrastructure and systems.